Télescope
Pit Spector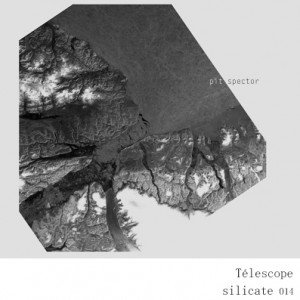 [jwplayer playlistid="1177″]
Download :
Purchase :
To get a CD, select your country and clic "buy". Don't forget to specify to paypal the delivery adress. We'll send you the order in few days. Total costs includes 3€ for the item plus delivery expenses. For more information, please contact us.
Artist:
 Pit Spector
Release:
 Télescope
Catalog#:
 Silicate 014
Format:
 CD, Album, Limited Edition
Country:
 France
Released:
 18 Jun 2010
Style:
 Abstract, Dub, Experimental, Ambient
Artwork By:
Luc Kheradmand
Notes : Silicate gives a limited release (CD + artwork booklet, 100 copies) of the first LP by Pit Spector, Telescope, a personnal workbetween IDM, micro-house and down tempo, in the famous and very personnal dubby way of the artist. Shifting scales and kinds, Telescope goes throught Pit Spector's deep and poetical world ouf sound. Telescope also focuses on three different remixes by unexpected artists: Cabanne, leader of Minibar (label and parisian bar), known for his remarquable releases on prestigious labels (Perlon, Karat, Hello? Repeat, 7th city…) gives "Cloche" a new admirable shape, digging into the groove. Ditch, enlightning micro-house and experimental techno producer from Japan, appearing on labels such as OP.disc, Minibar or Kalimari… sent us an outstanding minimal remix. Modeliszt, last but not least, Silicate artist, home dubstep specialist gives us for "Demo st" a musical, deep and accoustic remix.
Limited to 100 copies.